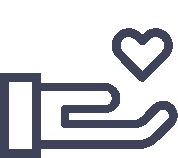 "Whoever is generous to the poor lends to the Lord, and He will repay him for His deed"
(Proverbs 19:17)
If gratitude causes a shift and reveals that our lives are truly abundant, we should respond by giving back from this abundance.We give back to God in gratitude for the blessings we have received and the blessings we experience simply in God, through BPC, and in the community.
​
What is Stewardship?
Stewardship is a journey. It is about life—a lifestyle." Giving is an expression of gratitude for what we have received. According to the Book of Genesis, we are created in the image of God, and God gives. God bestows us with life, love, forgiveness, and mercy. Our response to God's gifts is stewardship, in which we give of our time, talent, and treasure so that the church can continue its ministries of worship, formation, and service. Stewardship is the act of returning some of the good things that God has given us in order to express our gratitude to Him. Today, there are a multitude of deserving charities doing good work. They merit our financial assistance. Consequently, deciding to give back to God through the ministry of the local church is crucial for us to continue Christ's work of reconciliation in the world and in our local community. We appreciate your continued support of the life and mission of Bethel Pentecostal Church. To make an immediate donation, simply click the red button. We also want to encourage our members to establish recurring donations.